Eagle Rock
Eagle Rock is booming. With the recent lifting of Eagle Rock's longtime 9pm curfew, restaurants and bars are staying open later on Colorado and Eagle Rock Boulevards, creating a vibrant and entertaining community and night life.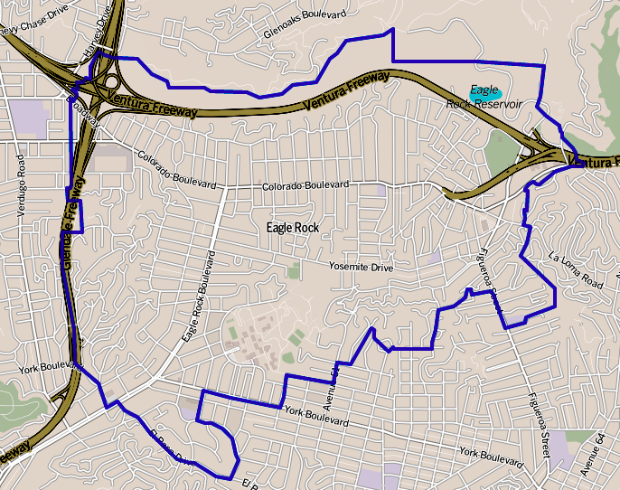 Located near Glendale, Highland Park, and Pasadena, Eagle Rock is named after a large rock outcropping, resembling an eagle with its wings outstretched. The neighborhood is known for its artistic and Bohemian inhabitants, relaxed atmosphere, and mostly hillside homes.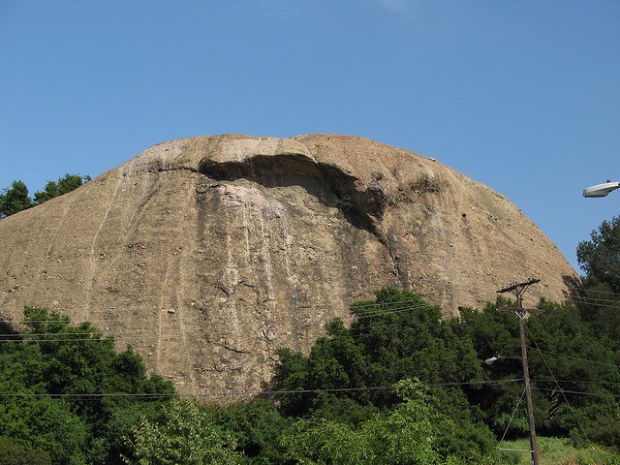 NOTABLE ARCHITECTURE
RESTAURANTS, CAFES, AND BARS
ARTS AND ENTERTAINMENT
VINTAGE LANDMARKS
SHOPPING
DEMOGRAPHICS
The neighborhood is inhabited by a wide variety of ethnic and socioeconomic groups and the creative class. Over the past decade the Eagle Rock and neighboring Highland Park have been experiencing gentrification as young urban professionals have moved from nearby neighborhoods such as Los Feliz and Silver Lake. A core of counter-culture writers, artists and filmmakers has existed in Eagle Rock since the 1920s.
According to the "Mapping L.A." project of the Los Angeles Times, the 2000 U.S. census counted 32,493 residents in the 4.25-square-mile Eagle Rock neighborhood—or 7,644 people per square mile, an average population densities for both the city and the county. In 2008, the city estimated that the population had increased to 34,466. In 2000 the median age for residents was 35, about average for city and county neighborhoods.
The neighborhood was considered "highly diverse" ethnically within Los Angeles, with a relatively high percentage of Asian people. The breakdown wasLatinos, 40.3%; whites, 29.8%; Asians, 23.9%; blacks, 1.8%; and others, 4.1%. The Philippines (35.1%) and Mexico (25.1%) were the most common places of birth for the 38.5% of the residents who were born abroad—an average figure for Los Angeles.
The median yearly household income in 2008 dollars was $67,253, considered high for the city. The neighborhood's income levels, like its ethnic composition, can still be marked by notable diversity, but typically ranges from lower-middle to upper-middle class.
SCHOOLS
Eagle Rock children attend schools in District 4 of the Los Angeles Unified School District.
Eagle Rock High School, 1750 Yosemite Drive. Eagle Rock High School was built in 1927 by the City of Los Angeles, as promised at the time of Eagle Rock's annexation. The building was demolished in 1970 over concerns about its earthquake safety. It was replaced by a contemporarybrutalist style building at the rear of the same school site.
Renaissance Arts Academy, charter high school, 1800 Colorado Boulevard
Dahlia Heights Elementary School, 5063 Floristan Avenue
Santa Rosa Charter Academy, middle school, 3838 Eagle Rock Boulevard
Eagle Rock Elementary School, 2057 Fair Park Avenue
Rockdale Elementary School, 1303 Yosemite Drive
Delevan Drive Elementary School, 4168 West Avenue 42
Toland Way Elementary School, 4545 Toland Way
Annandale Elementary School, 6125 Poppy Peak Drive
Celerity Troika Charter School, 1495 Colorado Boulevard
Private
Westminster Academy, elementary
St. Dominic Elementary School, 2005 Merton Avenue
Fusion Academy and Learning Center, 825 Colorado Boulevard
Grace Christian Academy, 1664 Yosemite Drive
American Montessori Preschool and Elementary, 4475 Eagle Rock Boulevard
Montessori Children's World, 4371 Eagle Rock Boulevard
ARCHITECTURE
Later decades brought other architectural styles to Eagle Rock homes and commercial structures, like streamline modern, International, post-war traditional, and mid-century modern.  Diversity still reigns supreme, and it is this eclectic mix of architectural character among large and small homes that has made Eagle Rock a unique and fascinating place while evoking the qualities of small-town America.
Eagle Rock, once a separate municipality, still has its original City Hall (Historic and Cultural Monument #59, 2035 Colorado Blvd.). Its original library, which was built with the aid of a Carnegie grant in 1914, was replaced in 1927 with a new structure which used one wall and the basement of the old library. This building (2225 Colorado Blvd.) has been listed on the National Register of Historic Places and converted into the Center for the Arts, Eagle Rock, previously the Eagle Rock Community Cultural Center.