Echo Park
Echo Park is a hip, vibrant, and thriving community filled with hidden gems. It features a range of homes, from small craftsmans to huge victorian homes in Angeleno Heights.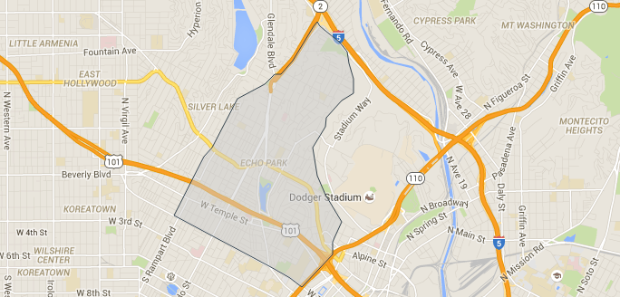 There are many small independently owned restaurants and shops located in between hidden streets that lace the area. One of my most favorite things about Echo Park is the newly renovated park. The park features a lake at its center that is wonderful for afternoon boat rides, picnics, relaxation, jogging, yoga, or for children to play. It's become a fantastic meeting place for the neighborhood. Another appealing aspect of Echo Park is its location. It is nestled in between downtown Los Angeles, chinatown and Silver Lake with all the major freeways not far away. It makes travel to a from Echo Park easy.
NOTABLE ARCHITECTURE
RESTAURANTS, CAFES, AND BARS
ARTS AND ENTERTAINMENT
VINTAGE LANDMARKS

SHOPPING

DEMOGRAPHICS
The 2000 U.S. census counted 40,455 residents in the 2.4-square-mile neighborhood—an average of 16,868 people per square mile, one of the highest densities in Los Angeles. In 2008 the city estimated that the population had increased to 43,832. The median age for residents was 30, about the same as the city norm.
Echo Park was considered moderately diverse ethnically. The breakdown was Latinos, 64%; Asians, 18.8%; whites, 12.9%; blacks, 2%, and others, 2.3%. Mexico (41.3%) and El Salvador (15.2%) were the most common places of birth for the 53% of the residents who were born abroad, a figure that was considered high compared to the city as a whole.
The median household income in 2008 dollars was $37,708, a low figure for Los Angeles, and a high percentage of households earned $20,000 or less. The average household size of three people was about the same as the rest of the city. Renters occupied 76% of the housing units, and house- or apartment owners the rest.
The percentages of never-married men and women, 46.8% and 38.3%, respectively, were among the county's highest. The 2000 census found 5,325 families headed by single parents, a high rate for both the city and the county. There were 1,034 military veterans in 2000, or 3.5%, a low figure for Los Angeles.
SCHOOLS
Baxter Montessori, 2101 North Echo Park Avenue (private)
Elysian Heights Elementary, 1562 Baxter Street (LAUSD). This school was home to "Room 8 the Cat"
Clifford Street Elementary, 2150 Duane Street (LAUSD)
Mayberry Street Elementary, 2414 Mayberry Street (LAUSD)
Golden West Christian, 1310 Liberty Street (private)
Gabriella Charter, 1435 Logan Street (LAUSD)
Logan Street Span School, 1711 West Montana Street (LAUSD)Serving K to 8th grade
Rosemont Elementary, 421 N. Rosemont (LAUSD)
Betty Plasencia Elementary School, 1321 Cortez Street (LAUSD)
DC Academy, 626 Coronado Terrace (private)
ARCHITECTURE
Angelino Heights near Echo Lake is the neighborhood's most picturesque area. More than 50 Victorian homes grace this historic district, which was established in 1983 as the city's first Historic Preservation Overlay Zone. One entire block of Angelino Heights, which also includes Craftsman-style bungalows, brownstones, and Streamline Moderne architecture, is listed in the National Register of Historic Places.
The Angelino Heights Historic Preservation Overlay Zone (AH HPOZ) was expanded in 2008 and covers 235 parcels bounded by West Sunset Boulevard to the north and a local shopping destination — Echo Park Avenue — on the west.
The neighborhood's hilly terrain has not impeded building. Many houses are designed to complement the steep slopes and take advantage of views. In some cases, buildings curve in harmony with the crest of a hill. In others, front doors lead not to a street but to public stairways that enable pedestrians to traverse the neighborhood's hillsides.