Highland Park
The hottest up-and-coming neighborhood in the US?
Highland Park is going through something of a renaissance. Named by Forbes magazine as the hippest neighborhood in the US, and by Redfin as the most up-and-coming 'hood, Highland Park is thriving.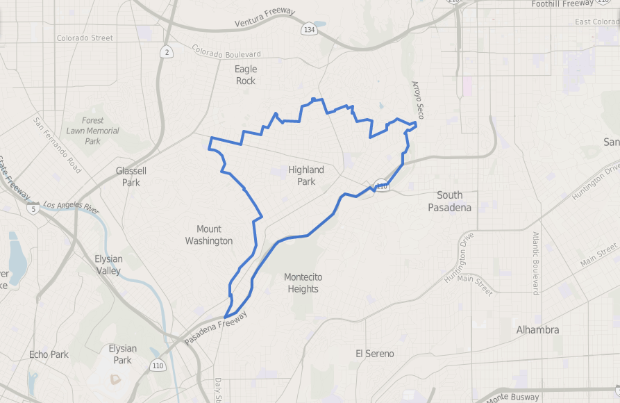 Whether you're near York Boulevard or Figueroa Street, you will find plenty to love about the small town feel. With new restaurants like Sonny's Hideaway and Kitchen Mouse, bars like Little Cave and The Greyhound, shops like Dotter and Arroyo General, and longtime stalwarts like Cafe de Leche and Maximiliano's, Highland Park has become a vibrant and bustling community.
NOTABLE ARCHITECTURE
RESTAURANTS, CAFES, AND BARS
ARTS AND ENTERTAINMENT
VINTAGE LANDMARKS
SHOPPING
DEMOGRAPHICS
The 2000 U.S. census counted 56,566 residents in the 3,42-square-mile neighborhood—an average of 16,835 people per square mile, one of the highest densities in Los Angeles. In 2008 the city estimated that the population had increased to 60,841. The median age for residents was 28, considered young when compared to the city at large.
Highland Park was considered moderately diverse ethnically. The breakdown was Latinos, 72.4%; Asians, 11.2%; blacks, 2.4%, whites, 11.3%; and others, 2.6%. Mexico (55.3%) and El Salvador (12.0%) were the most common places of birth for the 57.8% of the residents who were born abroad, a figure that was considered high compared to the city as a whole.
SCHOOLS
Zoned elementary schools include:
Aldama Elementary School
Annandale Elementary School
Buchanan Elementary School
Bushnell Way Elementary School
Garvanza Elementary School
San Pascual Elementary School
Saint Ignatius of Loyola School (K-8)
Toland Way Elementary School
Yorkdale Elementary School
Monte Vista Elementary School
Arroyo Seco Museum Science Magnet School (K-8)
Residents are zoned to Luther Burbank Middle School and Franklin High School. Los Angeles International Charter High School and Academia Avance Charter also serve the community.